Hiking in Skuleskogen National Park
Wow you guys, June is already here and May has been the warmest in a very long time. Summer is finally here and the hiking season has officially begun!
For me hiking is one of my favourite ways to explore and enjoy nature. As I put one foot in front of the other and get into a rhythm I feel myself slow down. I see all the details in nature, I hear all the sounds and smell so many wonderful scents.
I constantly stop to take photos and it's so relaxing.
Sweden is a great country to go hiking in. We have the freedom to roam and a lot of national parks and nature reserves filled with trails.

Last summer me and my friends went on a two day hike in Skuleskogen National Park and I really want to share one of my favourite hiking spots with you guys in the hopes that it will give you some inspiration for the upcoming season! 
This area is located in the beautiful High Coast and I like it because it's so accessible. It's also an area that offer such a varied flora with deep coniferous forests, the ocean and some lakes. When you visit the High Coast it's apparent that Sweden emerged from the sea. It's an interesting geological area.
HOW TO GET HERE
You can take a train to Örnsköldsvik and then switch to a bus, or you can arrive by car and park by one of the three entrances.
Since there are several entrances leading in to the park, you can enter from different directions depending on which trail you wish to follow. Each entrance is quipped with toilets, information and a place to sit down with a roof over your head. The west and north entrances also have a spot for making a fire to cook by.
≫ read more about the national park here
At the bottom of Skuleberget mountain you find the Naturum Visitor Centre, it is right next to route E4 and centrally located in the High Coast World Heritage Site. The staff here can help you with questions about the park or the High Coast area. During summer they also have guided tours.
ACCOMODATION
There's actually a few free, open cabins in this park. First come first served so if you happen upon an empty cabin, you can stay there for a night. Thanks to the freedom to roam you can also bring a tent and camp.
≫ My review of Stuglandet – A guide to free stay-overs
If you're not up for camping, or want to do shorter day hikes you could rent a cabin at Friluftsbyn, The Outdoor Village (you can also camp there) situated on the south side of Skuleberget mountain.
The staff there can also guide you to other things to do in the High Coast, like hiking, kayaking and canoeing, day trips to nearby islands and much more.
There's also a huge variety of activities, adventures and festivals taking place here through out the year.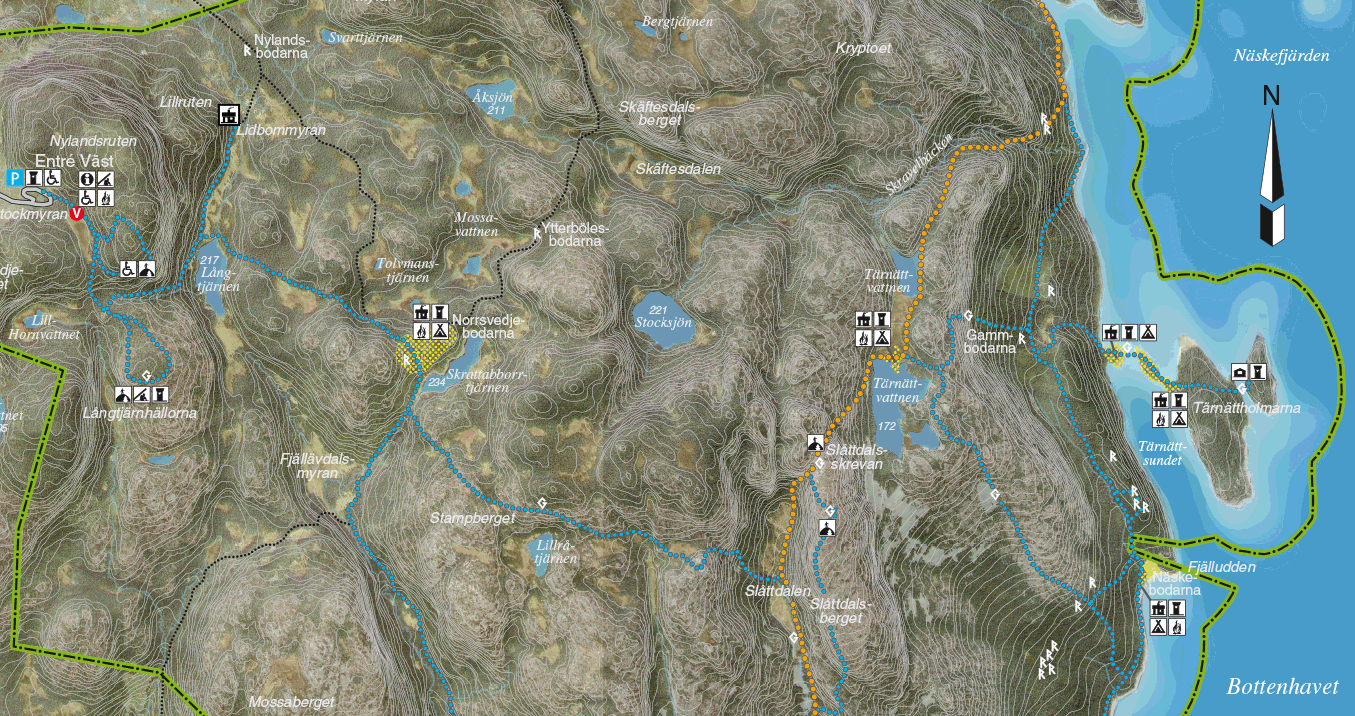 This map is provided by © Sveriges Nationalparker, www.sverigesnationalparker.se
Me, Nathalie and her partner Cristoffer decided to do some hiking and so on June 15 last summer we drove to the high coast. By the time we step out on the parking lot it's afternoon and the mosquitoes are rather annoying. We have decided to start the hike from the south entrance, hike all afternoon and evening (it was too warm during the day) and then make camp near one of the free cabins in the park.
When we have all our gear and our backpacks sit comfortable on our back we head into the deep forest. Everything is well marked and the paths are clear. In a lot of places there's also foot bridges available.
They also brought along their dog Vittra and I think she was really happy to be out walking in a big forest. Having a dog tag along was nice, and we met a lot of other hikers who had their dogs with them as well. It made us make quite a few stops to say hi to other furry friends and strike up conversations with the owners.
Choosing the south entrance meant quite the incline since we needed to walk over Slåttdalsberget (a smaller mountain) to reach our destination. As the path started to slope up-hill the forest grew more scarce and soon we we're no longer under the shadows of the trees.
We emerged from the darkness of the forest and out to a spot with a really nice view where we could rest for a bit and enjoy the amazing light created by the setting sun.
This was well needed to get some energy cause we were not yet at the top!
In Skuleslogen National Park the view of the High Coast is breath-taking
Sunsets are my favourite thing in this world and I was quite excited here, trying to taking it all in while taking too many photos. Nathalie has been here before and tried to calm me down "this view is nice but you just wait…" and so we continued further up the mountain.
Was she right? Oh heck yes. The sun kept getting lower and we climbed higher. Once we reached the top the sun was just about to disappear behind the treetops. Further down it was already dark by now. Heading up here extended our sunset and guys, it was magical to say the least.

As the last golden light disappeared behind the treetops we started heading down on the other side of the mountain. A bit of scrambling was necessary and with big packs and a dog I'm not going to lie, it felt a bit sketchy at some points but it went well.
We made it down and we navigated our way down to the small lake where we were to set up camp. As we had expected, the free cabin was occupied and so we put up our tents and made a fire. There was plenty of firewood available at this spot which is great!
It was nice to finally sit down and know we we're done for the day. And there's honestly nothing as calming as the warmth and crackling of a fire.
We also boiled some water and made a super late dinner before going to bed, exhausted but happy.
I can't remember the last time I slept in a tent before this, and it was so nice to camp again. I really enjoy it! After a really good nights rest we woke up to a beautiful morning.
I got out of my tent and sat by the water for a bit. Since it was so dark when we arrived the night before I hadn't really been able to see the layout of the place.
It was a really good spot for camping and I finally got a good look at the free cabin too, would love to come back and stay in it some day!
When we were all awake me made a fire and had som coffee and breakfast before packing up and heading out again.
We headed back the way we came at first, but instead of hiking back up the mountain we walked around it down in the forest and made a circle back to the south entrance where we first started.
As much as I enjoy hiking, there's also such a lovely feeling of taking the pack of your sore back and stowing it in a car, knowing you're done. Hiking here was amazing and we had a lot of fun together. It was nice to disconnect from the rest of the world for a bit and just… walk. I really needed that.
We packed all our stuff into the car and started to head back home again. On our way we passed by a rhubarb café which was… Nothing if not amazing and well worth a visit, and a great way to end this adventure.
SaveSave
SaveSave
SaveSave
SaveSave
SaveSave
SaveSave
SaveSave
SaveSave
SaveSave
SaveSave
SaveSave
SaveSave
SaveSave
SaveSave
SaveSave
SaveSave
SaveSave
SaveSave
SaveSave
SaveSave
SaveSave
SaveSave
SaveSave
SaveSave
SaveSave
SaveSave
SaveSave
SaveSave
SaveSaveSaveSave